Fleeca AirStick is the best digital tyre pressure gauge available for trucks/fleets heavy-duty vehicles have an Accuracy level of 1% (+/-) of applied Air pressure.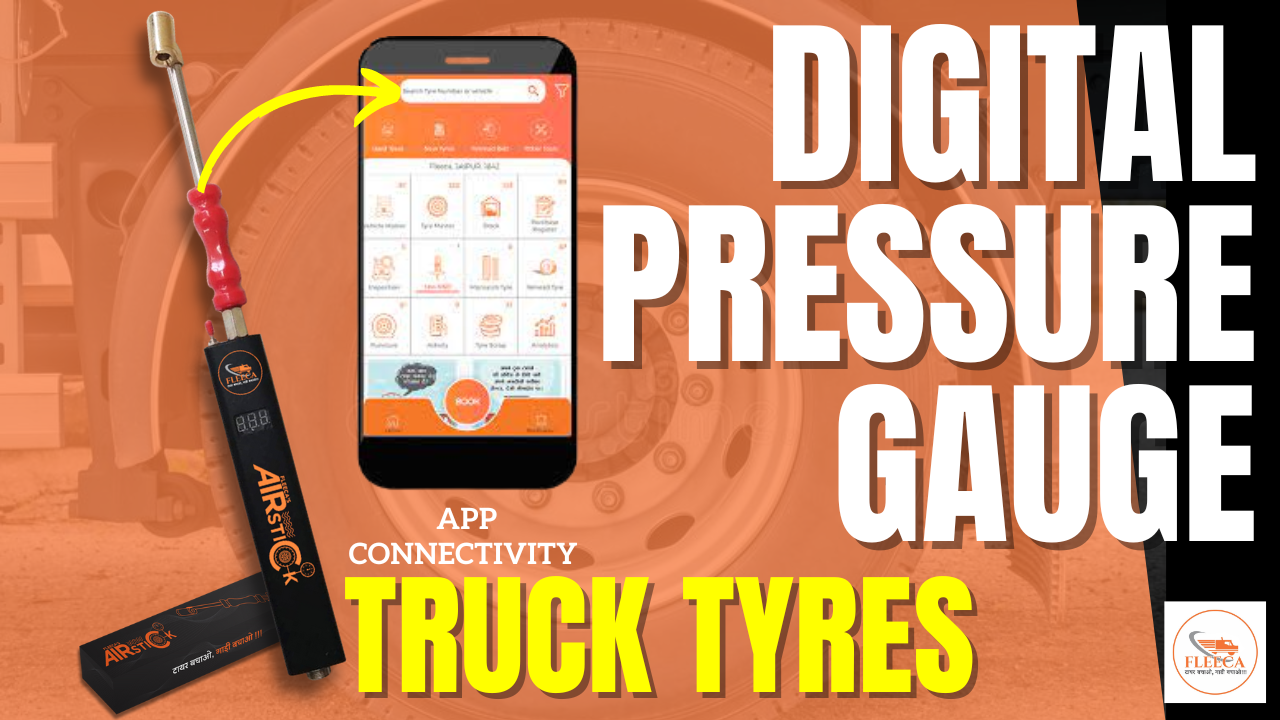 Need Of A Tyre Pressure Gauge
Proper inflation is key to prolonging the life of your tyres. Tyre pressure is often forgotten. Properly inflating tyres will not only prolong the life of your tires but also save you money on fuel and make your family and friends safer on the roads.
It is always recommended to maintain the correct tire pressure. Low tire pressure can cause excessive heat at high speeds, which could lead to a tire blowout.
Because it makes the car more difficult to handle, a front tire blowout can be dangerous for any vehicle.
Low tire pressure can also make the car less efficient, which in turn will reduce gas mileage.
However, excessive tire pressure can hurt the centre tread area of the tire to wear prematurely, which will lower the tire's life expectancy.
Pressure gauges work on Hooke's Law.
This law states that the force needed to compress or expand a spring in a linear fashion is proportional to its distance from extension or compression.
There are two types of pressure: inner pressure and external pressure.
When pressure is applied to the surface of an object, pressure will be more concentrated on the inner side because the pressure area is smaller.
This principle is why Bourdon pressure gauges are used in many industries.
Nowadays, digital pressure gauges are common. The AC and DC power supplies are crucial in digital pressure gauges. The AC or switching circuit converts to DC.
The sensor diaphragm measures the pressure and transmits it to the switching circuit, or AC.
An electrical signal is then generated to reach the smartphone or computer. These gauges are equipped with an LCD display.
Fleeca AirStick Digital Tyre Pressure gauge
AirStick, a wireless-connected battery-operated pressure gauge that measures tire pressure and stores the data in the Fleeca associate app, is rechargeable.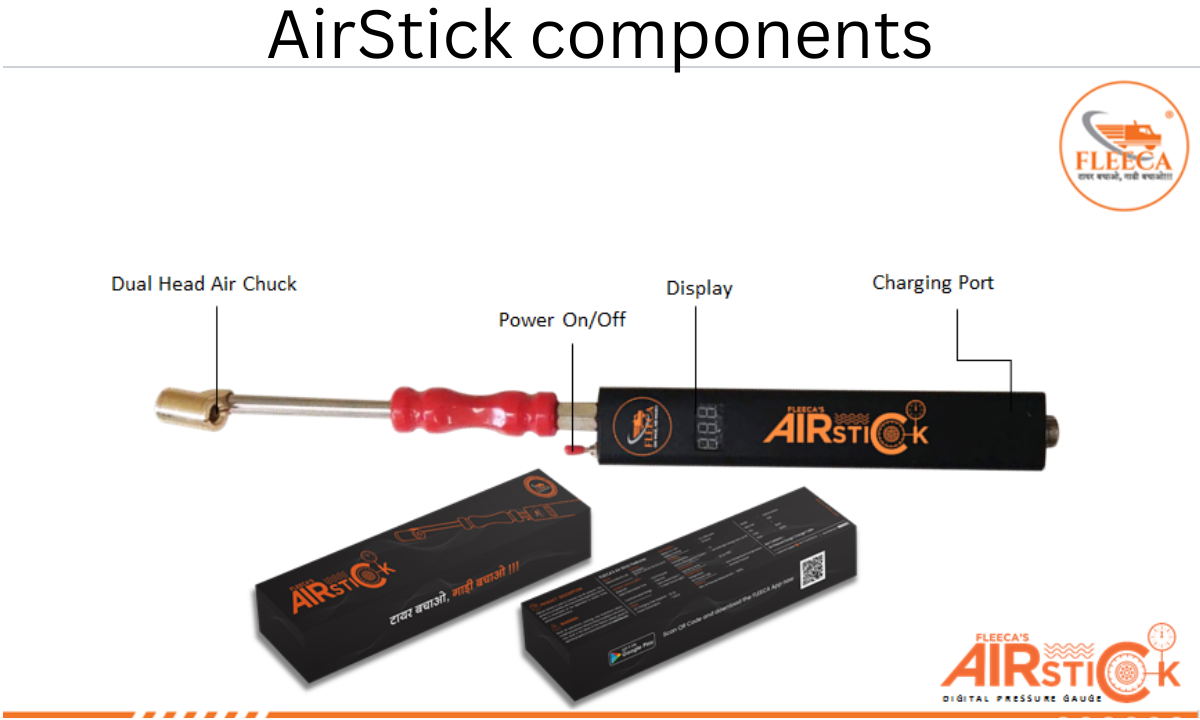 The slim neck design makes it easy to measure tire pressure, especially the inner tire.
Technical Specification
Control On / Off

Display Type ~ LED, 3 digits

Dimensions: 44 x 3.5x 3.0 cm

Weight 0.49kg

Battery Li-ion 2200 mAh

Battery Life 1000 charges

Input DC5v / 2A

Low Battery Indication

Auto-Zero ~ Yes

Max. Maximum Operating Pressure: 190 PSI

Accuracy of 1% (+/-) of applied air pressure* (air is clean and free from impurities)




Wireless Connectivity – Bluetooth V2.0 Protocol.

Data Transmission Time 3 Seconds (auto transmission).

Communication Range 5m Line of Sight.
How to operate the Fleeca Airstick Tyre Pressure Gauge
OPERATION
# Step
To turn the AirStick ON, press the push button. The battery light indicator blink on the display
After a period of 2 seconds, the device switches to Air pressure mode. Now the device is ready for use.
# Step 2
Connect the head to the valve of your tire.To measure tire pressure in PSI.
Benefits of Digital Tyre Pressure Gauge
Fleeca's AirStick can help you have a great time with your TYERS
Speed and accuracy are important.
Fleeca digital tire pressure gauge calibrated for maximum accuracy in applying air pressure.
Financial Benefits
Increase your tyre mileage.

Increase fuel efficiency.

Reduce puncture.

Blow-outs can reduce tire scrap loss.

Get to the point when it is most convenient.
Operational Benefits
Reduce operational delays.

Tires can reduce truck breakdowns.

Monitoring and real-time data collection about tyres.

Reducing the need for tyre repairs.
Technical Benefits
Digital pressure gauge has several other benefits as well as mentioned above, basis on these points they seem superior to analog Tyre pressure gauge
Durability: Such tyre pressure gauges are sustainable and can perform in challenging conditions of temperature or onsite mechanical vibrations that affect the pressure reading.
Calibration: Digital Tyre pressure Gauge doesn't need any calibration they remain calibrated with the software so always has precise readings.
Custom Pressure Gauge: Such pressure is highly adaptable and can be customized as per client need,
features can be added or deleted as per the utility and customer need which is missing in Analog Pressure Gauge
Readings: analog pressure gauge consisting of a Pressure monitoring needle that needs interpretation of needle location.
wherein a Digital pressure gauge has an LCD display that indicates real-time pressure readings
How to Choose A Digital Pressure Gauge
If you don't know the differences between different types of digital pressure gauges, it can be confusing.
A DPG (digital pressure gauge) is any pressure measuring device that digitally indicates the pressure using an electronic display.
DPGs are different from dial gauges that use a mechanical component to measure and indicate pressure. The industry has used dial gauges for many years.
They are used to indicate pressure by using a Bourdon tube that is mechanically connected to a dial which rotates on a graduated circular scale.
Further Reading

TPMS – Tyre Pressure Monitoring System In India

Tyres Online ~ Bridgestone Truck Tyres Price In India
Final verdict Digital Tyre Pressure Gauge
Fleeca's AirStick Tyre pressure gauge is the best digital gauge for heavy-duty trucks.
This device is compatible with the most popular options on the market, and it comes at a reasonable price.
To submit your request for the fleeca AirStick, please visit the link below