Tyre Industry is an integral part of both Automotive and Logistic industry. Logistic Industry including trucks and buses in India is the biggest consumer of tyre industry with its share standing at 55% of total tyre consumption. Also, the largest segment in this is of replacement with its share standing at 61% of the total share in trucks and buses. If put in another way Logistic Company or a Supply Chain Industry burns highest amount of their earnings on tyres after the fuel, making tyres a very important component of logistic industry. The major concern is that what should be done to reduce this agony and make business more profitable in terms of savings. The fuel prices are not in control of any individual, tyre prices are also decided by tyre OEMs, apart from these various operational factors impacting the revenue are caused by tyres, the major challenges observed are:
Effective, Appropriate and Preventive maintenance of tyres causing unusual/uneven wear
Low tyre mileage in terms of kilometres indicating faster wear and less life of tyres
Selection of tyres based on factors like load condition, vehicle type, position of fitment, tread pattern, road conditions, goods carried.
Correct and timely removal of tyres for retread purpose to earn a second or third life of the tyre
High tyre scrap due to wrong reasons
Inventory management comprising of exact information with tyre number of each tyre whether it's on wheel, removed for purpose of repair or retread, scrap, new purchase, retread sent and received etc.
Exact planning of tyre requirement weekly, fortnightly or monthly basis.
Vehicle Breakdown due to tyres
So, where the focus should be in order to reduce the agony of a fleet owner in terms of tyres. The very rudimentary answer to this can be appropriate tyre maintenance or rather tyre management at appropriate time. Tyre Management is a factor which most of the fleet owners are unfortunately unable to execute with utmost efficacy, or even if done desirable results are not achieved by them.
"Fleeca" stands for "Fleet Care", Fleeca India Pvt. Ltd. is a Jaipur based company with its unique and complete solution-based product designated as "TMaaS- Tyre Management as a Service". The inclusions of Tyre Management done by Fleeca India Pvt. Ltd. to increase the tyre life of their customers in its own unique way are: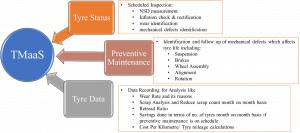 The trusted services of Fleeca India Pvt. Ltd. are being enjoyed by more than 130 customers in 13 states. Our vision is "To become the best tyre management service provider in India for Fleet owners to keep rolling smartly with grip of trust & safety on tough roads" and inch by inch and day by day we are dedicatedly working towards this vision and contributing to the logistics industry and fleet owners to grow and flourish by serving with high quality standards to our clients.